Remote access, Remote control and Remote support solution
TeamViewer is a comprehensive, remote access, remote control and remote support solution that works with almost every desktop and mobile platform, including Windows, macOS, Android, and iOS.
Why is TeamViewer's technology so special?
TeamViewer lets you remote in to computers or mobile devices located anywhere in the world and use them as though you were there. Plus, you can remotely connect to servers, commercial-grade machines, and IoT devices from anywhere, at any time through our secure global remote access network.
One integrated solution for all your remote connectivity needs
Deliver Instant Remote Support to Customers and Employees
Tech mishaps happen. Computer glitches, system crashes, and device failures can bring business to a standstill. Instead of making on-site service calls that take time and increase costs, IT pros choose TeamViewer to provide instant remote support for their clients.
Ad-hoc support for clients and employees
Custom branding for support applications
Integrated service case management and integrations for major service desk systems
Leave sticky notes on remote computers
Integrations for Mobile Device Management and other apps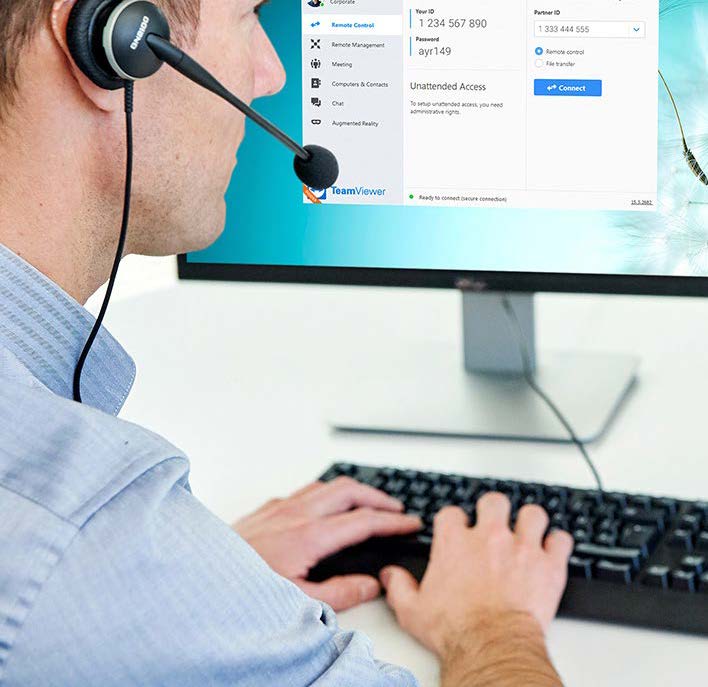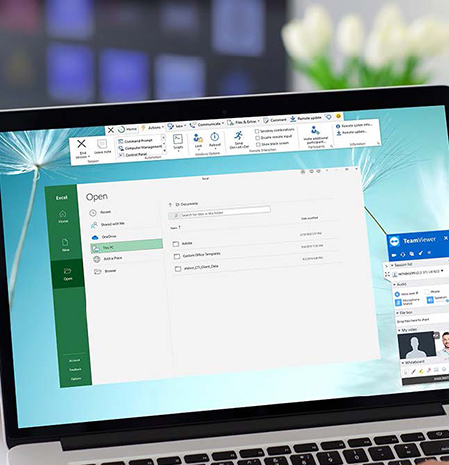 Access Remote PCs, Mobiles, and Servers — or Work From Home
Working from home. Away on business trips. With TeamViewer remote access tools, you can stay productive no matter where you are. Your desktop files and applications are just a few clicks away. Even mobile devices and servers can be securely accessed — all without VPN.
Permanent access for unattended devices
Videoconferencing and collaboration with TeamViewer Meeting
Black screen for private remote access
Secure, flexible file sharing
Remote Printing for Windows and MacOS
Support Mobile and Commercial-Grade Devices — Anywhere, Anytime
Need to access, manage, and support mobile devices, even when no one's there? No problem just set up permanent unattended remote access to mobile devices, computers, and servers, or even IoT devices, point of sale (POS) machines, kiosks, or digital signage.
Share Your Screen on iPhones and iPads
Transfer files  securely, and manage transfers in the Files app on iOS
Mobile-to-mobile  connections
View system diagnostics in the TeamViewer desktop app
Chat via text, take screenshots, or control processes on the supported device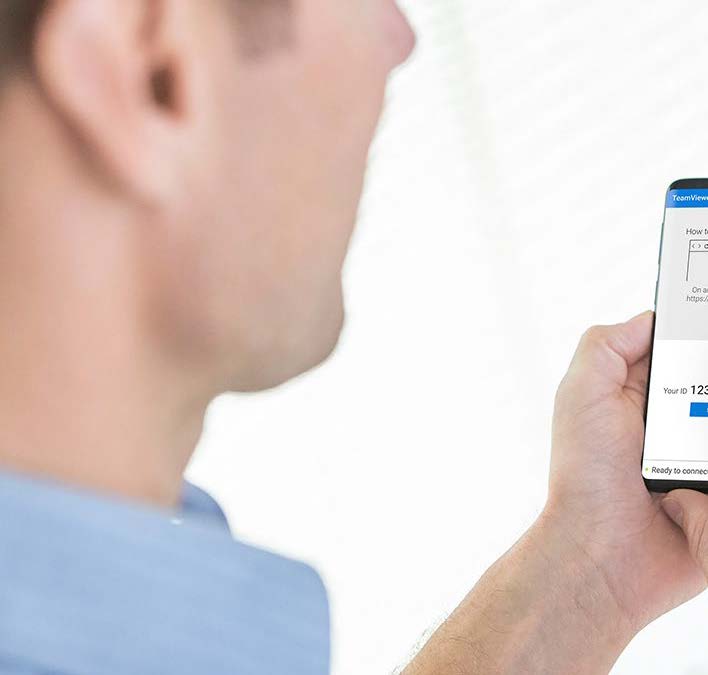 TeamViewer solutions with support from the official distributor in Greece, Cyprus & Malta
Single User - 1 Remote Session
One licensed user can initiate device connection one session at a time
Multi User - 1 Remote Session
Includes 15 licensed users, allowing 1 user to open 1 remote session at a time
For Teams - 3 Remote Sessions
Includes 30 licensed users, allowing 3 users to open 1 remote session each, at the same time
Secure SaaS Enterprise Remote Connectivity
Deliver the Best Customer and Employee Experiences Seamlessly Across Devices and Platforms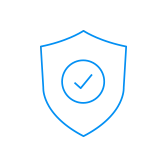 Your Security, Built into TeamViewer
TeamViewer is secured by end-to-end 256-bit AES encryption, two-factor authentication, and other industry-grade security features. We are certified according to SOC2, HIPAA/HITECH, ISO/IEC 27001, and ISO 9001:2015, and comply with GDPR.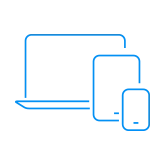 Widest Device and Platform Coverage
With the highest total combined coverage of 127 manufacturers for mobile devices, operating systems, and IoT devices on the market today, TeamViewer outperforms competitors by far.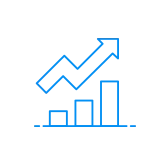 Best-In-Class Usability, Image Quality, and File Transfer Speeds
TeamViewer engaged Qualitest – a world leading independent quality assurance company – to test its technical performance and compare it to competitors. Check out the stunning results!
למד יותר אודות היתרונות של TeamViewer